Posting to Facebook is pretty simple. You share a quick business update, maybe a new photo of your work and then call it a day. Think back to the last post you shared. What value did it provide your audience? How much engagement did it receive? Did it display a positive message or perspective about your business?
Why does all of this matter? It's just a Facebook post. Right? The short answer is yes, it's "just" a Facebook post. But in the marketing world and as a business owner, it's so much more than that.
On Facebook, engagement is recorded as any action someone takes on your Facebook posts. This includes likes, shares, comments, and link clicks.
The more engagement your Facebook posts receive, the higher your organic reach extends; the more likely your posts are to show up higher on your audience's news feeds; the more exposure your posts will see when they are shared; and, ultimately, the more likely Facebook users are to take valuable action such as purchasing your products or signing up for your service.
So, how do you create and share engagement-worthy Facebook posts? Here are 10 Facebook post ideas to boost your engagement.
Ask a Question
A great way to engage and start conversations with your audience is to ask them questions. As basic as it sounds, it does spark curiosity and customer attention.
Ask a question in your post—whether it be a funny, quirky, genuine, or interesting question—and tell your audience to comment below with their answers. Then, react to their answers by liking or responding to their comment to let them know you're taking the time to read them.
When you think of a question to ask, get creative. You can leverage this strategy for asking your followers for input on business decisions, product ideas, what they are interested in seeing from you, or even relatable scenarios to show brand personality.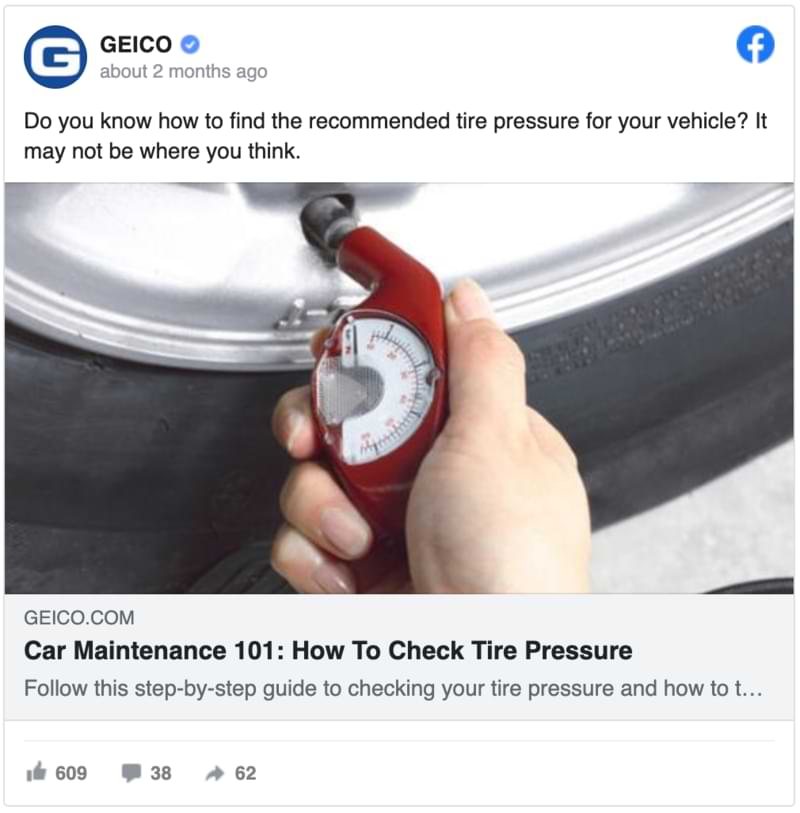 Share something inspiring, entertaining, or informative
People love to be inspired. Facebook users often turn to the popular social media platform to share and view "feel good", entertaining, and informative content. Before you publish a post, ask yourself if it's something that you would engage with on your own news feed from a business. Would your friends or family do the same? Does it inspire, entertain, or aim to teach you something new?
Your Facebook audience wants content that they're interested in, makes them smile, think, or that adds value to their lives in one way or another. Create Facebook posts that show how your customers can use (or how they are using) your products or service to inspire them into action. Do you have helpful industry/business-related tips and resources you can share with your audience?
Create a daily, weekly, or monthly post series
This is a fun way to bring an engaging post back each day, week, or month that your audience can look forward to and get invested in. Develop a recurring theme that you can create posts for such as Feature Friday, Sale Saturday, monthly recaps, or anything else that you feel you can share a lot of content about.
For example, Feature Fridays are a popular post series to feature different products, services, or even happy customers who have shared their testimonials. Series themes can be as creative and unique as you want them to be and your audience will love seeing each new post.
Run a contest or giveaway
Contests and giveaways are seemingly the most widely used tactic for prompting customer engagement on Facebook for businesses, large and small. Choose a prize (typically a free/discounted product or VIP access to a featured/brand new product), add the guidelines in the caption of your post, set a deadline, then choose a winner based on your guideline parameters.
This marketing strategy dates back to the 1950s and '60s when ad agencies and brands would host contests listed in magazines to source taglines and slogans for new products and services. It's a similar concept, just using a different platform. Plus, people love anything that involves a freebie or discounted rate. Running a customer contest is a fairly inexpensive, effective, and fun way to boost your engagement on Facebook.
Share user generated content
The use of user generated content, or "UGC", is extremely impactful for generating more engagement on Facebook. Potential customers love to see other people like them who share similar interests using the same product. Sharing UGC on platforms like Facebook and Instagram helps establish trust and brand authenticity, and is a creative way to get customers to post about your brand or product.
Let them know that when they post about your product, they could have a chance to be featured on your social media channels or other marketing materials. So, everytime a customer posts about your product or leaves a review, you can use that user generated content and use it as a Facebook post.
Share a customer success story
Potential customers want to know how your product or service can provide value to them. More powerful than a simple Facebook review, a customer success story not only highlights what problem or issue someone was having before they found your business but it shows how your product solved their problem and provided value.
Reach out to your current or past customers and ask if they would be willing to share their story or experience using your product. You can even offer them an incentive for their participation, such as a discount on their next purchase.
Poll or survey your followers
People love sharing their opinions, especially social media users. Whether you want to get their opinion on a business decision, new product update, or simple and fun, run a poll or survey to let your audience know that their thoughts and opinions are valued.
Polls can be informal and don't have to be sales-related. Use them to get to know your audience and for them to get to know you.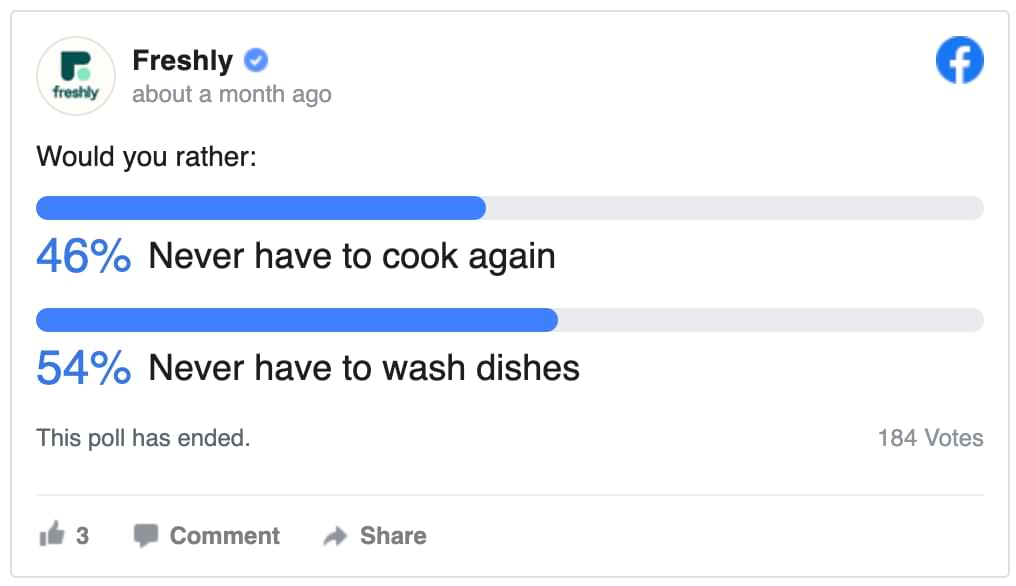 Introduce your team or workspace with a BTS post
Give your audience a little insight into what the behind the scenes process or workspace looks like of the product they are purchasing. It doesn't have to be super professional, clean, or neat. It should just be real—in a positive way though, of course.
This type of post can be a photo, a series of photos, a video, or even a Facebook Live. Show customers what your production process looks like or introduce your employees. Show them what your office looks like or even let them follow you around for the day in a "vlog" style video.
Host a Q&A session with real-time answers
As a business owner, you won't always have a lot of time to sit and answer every customer question left in your Facebook comments or messages. To give yourself that dedicated and productive time, let your audience know that you are dedicating a specific day and time to answering all of their questions in real-time.
To host a Facebook Q&A session, create a post ahead of time to let them know when you'll be available to answer their questions so they don't miss it. On the day and time of your session, create a post letting your audience know the session has started and that they can comment on the post with their questions and you will provide answers by responding to their comments right away. If you're comfortable being in front of a live audience, this would also be a great opportunity to do a Facebook Live and answer any questions there.
Create how-to's and tutorials for your products or services
Although this is a more time-consuming task, creating how-to's and tutorials for your products or services is a great way to boost your engagement. Creating a Facebook post out of tutorials can be done in a few ways.
One way to do this is to create a longer form, in-depth tutorial to publish as a blog post and then share it on your Facebook with a short description and a photo or video. Another option is to create a fun video or infographic that you can share as your Facebook post with the steps on how to use your product or how to get started with your service. Buzzfeed Tasty is a great example of how to use Facebook for sharing tutorials when they post their recipe videos.
---
In sum, every business owner using Facebook to market their products/services should have some sort of engagement strategy. Whether you're posting daily or just a few times a week, it's important to add purpose and goals behind each post.
So, before you publish your next post, think about what you hope to accomplish with that post. Is the goal to drive traffic to your website, purchase a new product, leave a testimonial, or simply to get to know your audience?
The best part is that these Facebook post ideas are inexpensive, yet effective for nearly every business in any industry. Give one of these post ideas a try this week to boost your Facebook engagement and let us know how it goes!